5 Easy Recipes for Kids to Try During the School Holidays
Now that the school holidays are here, parents and carers find themselves faced with a familiar challenge: keeping their little ones entertained and engaged during the break. How about experimenting with some easy recipes for kids?
Making cooking part of your kids' holiday activities will spark their creativity, teach them new skills, and provide a fun family bonding experience. It's the perfect excuse to tear them away from their gadgets, too!

From breakfast dishes to delicious dessert recipes, we've gathered several easy recipes for kids by Coles that'll keep your kids coming back to the kitchen!
Easy breakfast recipes for kids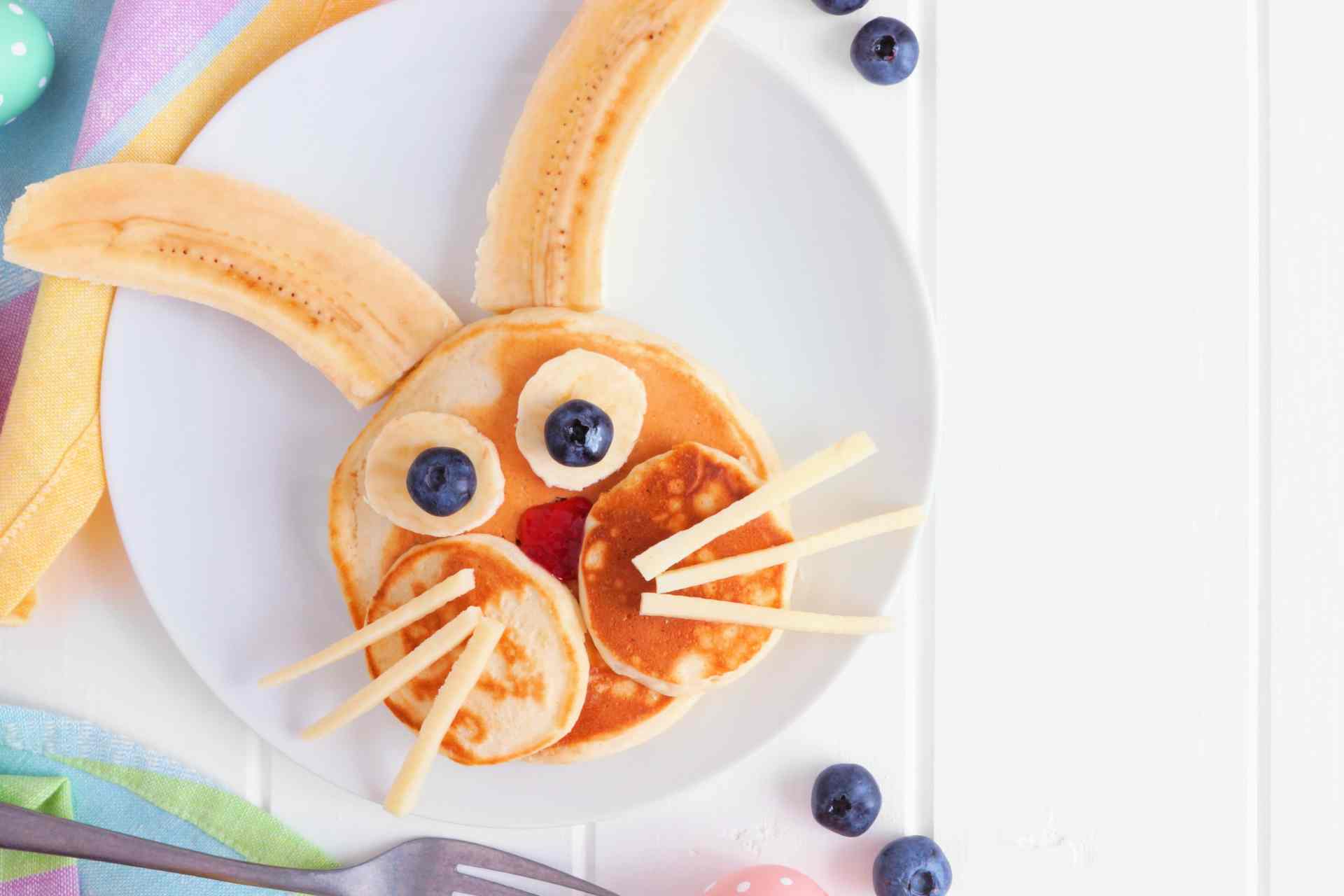 1. Bunny pancakes
Here's an easy pancake recipe for kids with a fun twist! Since the kids have more time on their hands during the school holidays, why not take a few extra minutes to make breakfast look as good as it tastes? This bunny pancakes recipe will only take 25 minutes to make!
Ingredients
● 350g packet of Coles Original Pancake Mix
● Melted butter
● Blueberries
● Banana cut into bite-sized shapes
● Watermelon cut into bite-sized shapes
● Strawberries cut into bite-sized shapes
● Vanilla marshmallows, halved
● Black writing icing
Steps
Step 1:
Begin by preparing the pancake mix according to the instructions provided on the packet. Take one-third of the mixture and transfer it into a piping bag equipped with a plain nozzle measuring 5mm.

Step 2:
Apply a small amount of butter to a non-stick frying pan to prevent sticking. Heat the pan over low heat. Gradually pipe the pancake mixture into the pan, forming shapes resembling ears and paws.

Allow the pancakes to cook for approximately one to two minutes or until bubbles start to appear on the surface. Flip them over and cook for an additional minute until they are fully cooked.

Place the cooked pancakes on a plate and cover them to keep them warm. Repeat this process with more butter and the remaining pancake mixture to create the bunny's heads.

Step 3:
Divide the prepared pancakes among serving plates and arrange them in the shape of bunnies. Enhance the pancakes' appearance by decorating them with blueberries, watermelon, and strawberries. Use marshmallows to create tails and icing to draw noses on the pancakes.
2. Healthy chocolate granola with berries and yoghurt
Looking for healthier breakfast options? You can't go wrong with granola and yoghurt, a super easy recipe for kids! While you can certainly go for ready-made granola, making it yourself is half the fun – and easier than you'd expect.
Ingredients
● 2 cups (180g) rolled oats
● 1/4 cup (40g) natural almonds, chopped
● 1/4 cup (35g) walnuts, chopped
● 1/4 cup (40g) hazelnuts, chopped
● 1 tbsp Coles seed mix
● 2 tbsp cacao powder
● 2 tbsp buttermilk
● 4 cups (600g) frozen mixed berries
● 1 cup (280g) Greek natural yoghurt, sugar-free
Steps
Step 1:
Preheat your oven to 200°C and line a tray with baking paper. In a large bowl, combine the oats, almonds, walnuts, hazelnuts, seed mix, and cacao. Mix them together well.

Pour in the buttermilk and stir until all the ingredients are evenly coated. Spoon the mixture onto the lined tray, spreading it out evenly. Place the tray in the oven and bake for approximately 15 minutes or until the mixture turns golden and crisp.

Step 2:
While the granola is baking, put the berries in a medium-sized saucepan. Place the saucepan over high heat, stirring the berries occasionally. Allow them to cook for around five minutes or until the berries are heated through and slightly collapsed. Once cooked, set them aside to cool.

Step 3:
To serve, divide the yoghurt and granola between bowls or glasses. Top the mixture with the cooked berries.
Kid-friendly recipes for lunch or dinner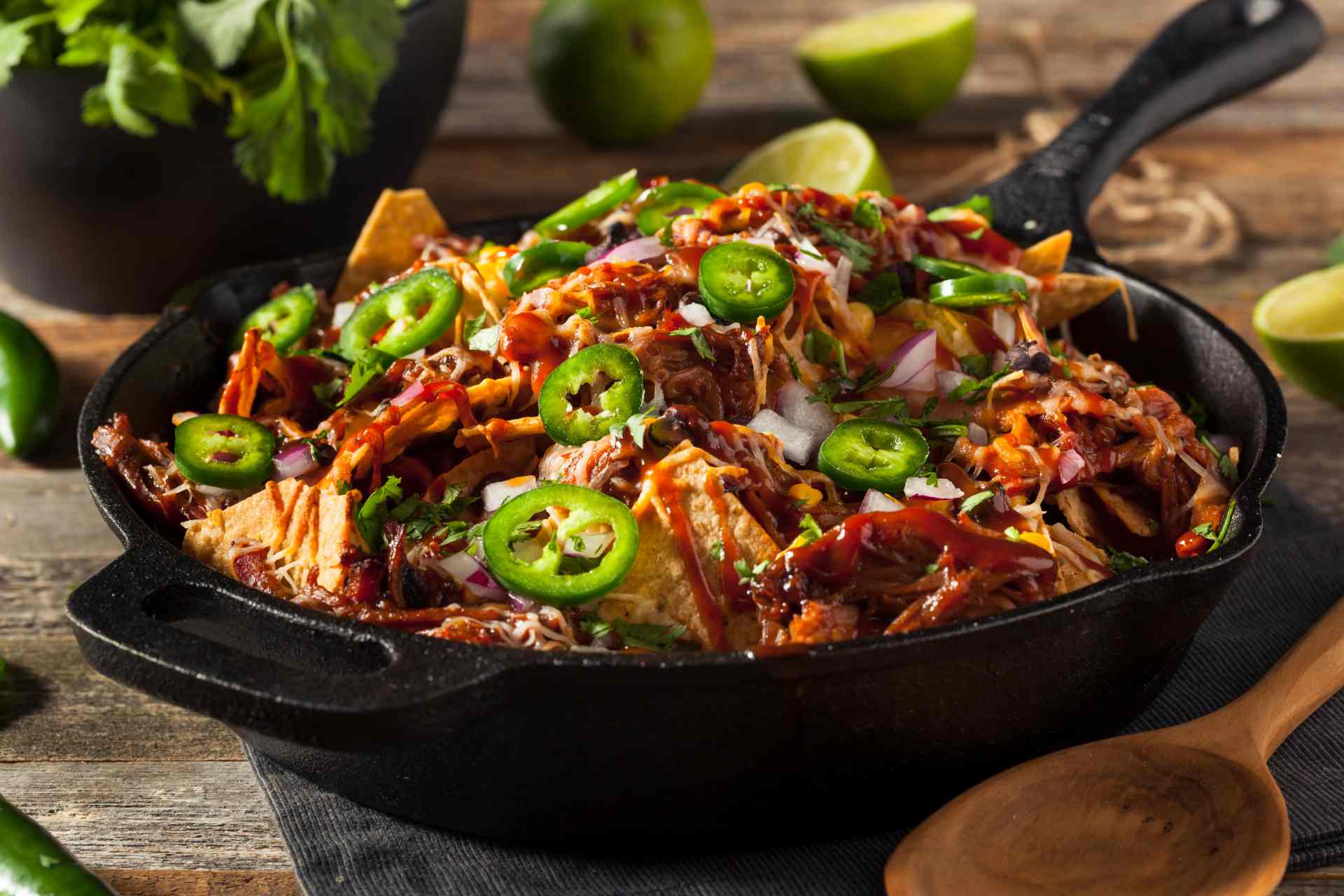 3. Pulled pork nachos
Whether you're planning to entertain guests or just having dinner with the family, this pulled pork nachos recipe will surely be a winner. While this easy recipe for kids requires a few hours of cooking time, the wait for this mouth-watering dish will be worth it!
Ingredients
● 1 tbsp olive oil
● 1.2kg Coles Mini Pork Shoulder Roast Boneless
● 40g packet Coles Mexican Seasoning Mix Mild
● 400g can diced tomatoes
● 1 tbsp brown sugar
● 2 tbsp barbecue sauce
● 300g packet original corn chips
● 1 cup (120g) shredded tasty cheddar
● 1 small red onion, finely chopped
● 1 avocado, stoned, peeled, thinly sliced
● 1 avocado, stoned, peeled, thinly sliced
● 1 small tomato, finely chopped
● Sour cream
● Coriander leaves
● Sliced jalapeno chilli
● Lime halves
Steps
Step 1:
Preheat the oven to 140°C. In a small flameproof roasting pan, heat oil over high heat. Cook the pork, turning it occasionally, for approximately five minutes or until it becomes browned on all sides.

Add the lime halves and seasoning to the pan, stirring for 30 seconds or until a fragrant aroma emerges. Incorporate the diced tomato, sugar, and barbecue sauce into the pan, and continue stirring for 10 minutes or until the mixture reaches a simmer. Return the pork to the pan, ensuring it is coated in the sauce. Cover the pan tightly with foil.

Step 2:
Place the pan in the oven and bake the pork, turning it occasionally, for 2 1/2 hours or until it becomes very tender. Uncover the pan and cook for an additional 15 minutes or until the sauce begins to caramelise. Cover the pan with foil again and set it aside for 10 minutes to rest. Carefully remove and discard the pork rind. Use two forks to coarsely shred the meat.

Step 3:
Increase the oven temperature to 200°C. Arrange the corn chips on a large baking tray and sprinkle them with cheese. Bake for five minutes or until the cheese melts.

Step 4:
Once the corn chips are out of the oven, top them with the shredded pork mixture, followed by the onion, avocado, and tomato. To serve, add dollops of sour cream and sprinkle with coriander leaves and chilli. Serve with the lime halves for added zest.
4. Quick BBQ chicken wraps
Undoubtedly an easy recipe for kids, these BBQ chicken wraps are both delicious and super easy to make! Perfect for days when you're short on time (or your kids are short on patience), this recipe will satisfy your taste buds in just a few minutes!
Ingredients
● 500g Coles RSPCA Approved Chicken Breast Fillets
● 1 tbsp Coles Mexican Seasoning Mix
● 400g Coles Kitchen American BBQ Salad Kit
● 4 Coles Burrito Tortilla Wraps
● 1 avocado, stoned, peeled, thinly sliced
Steps
Step 1:
Grease a barbecue or chargrill pan and place it over medium heat. Put the chicken and seasoning in a medium bowl and toss them together until the chicken is evenly coated. In a separate bowl, follow the instructions on the packet to prepare the salad kit.

Step 2:
Cook the seasoned chicken on the grill, turning it occasionally, for approximately 8 to 10 minutes or until lightly charred and fully cooked through. Transfer the cooked chicken to a plate and loosely cover it with foil, allowing it to rest for five minutes. Meanwhile, place the wraps on the grill and cook them for a minute on each side or until lightly toasted.

Step 3:
Create thick slices of chicken. Divide the wraps among the serving plates. Top them with the prepared salad, sliced chicken, and avocado. Season with pepper before serving.
Easy recipe for kids who love sweets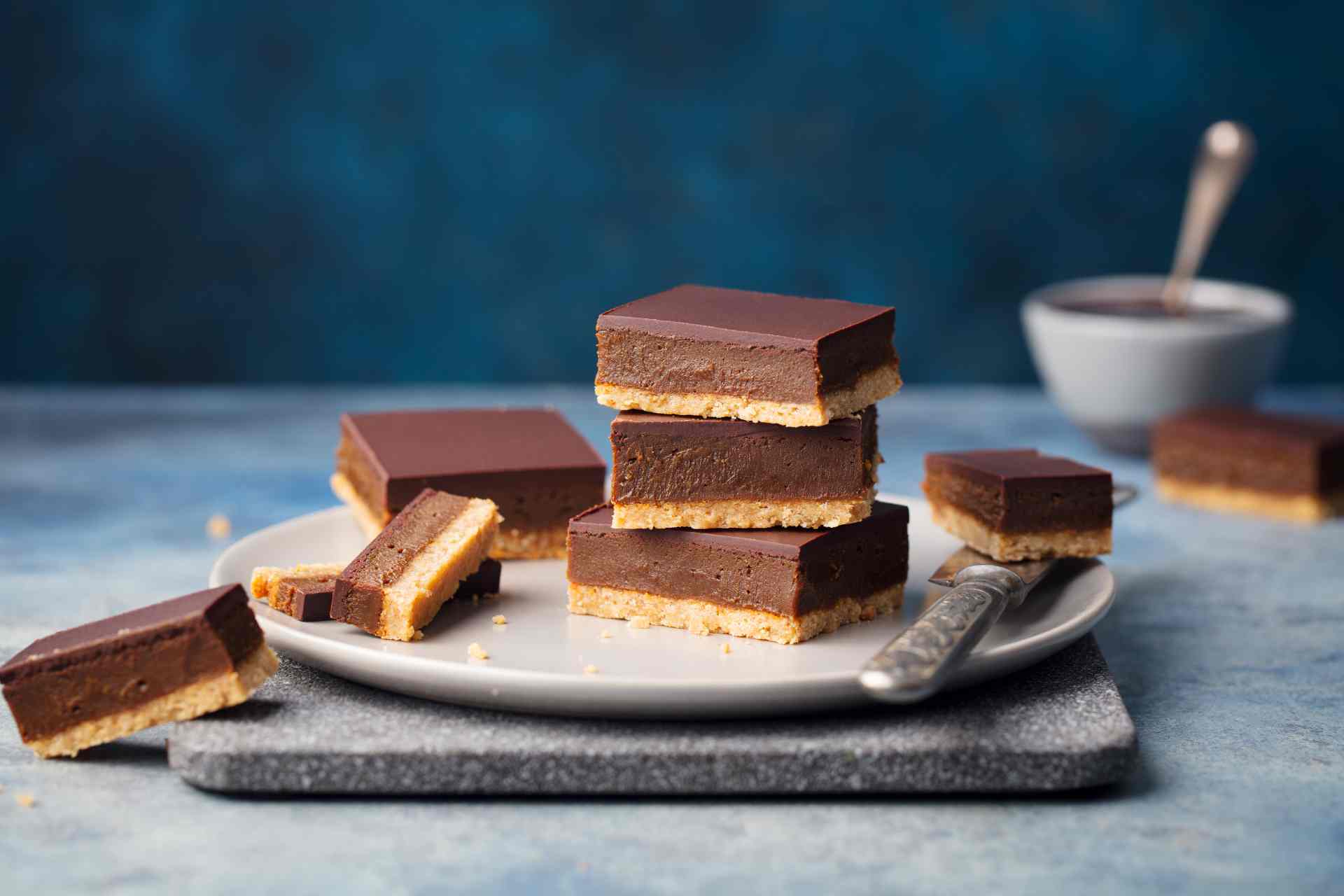 5. Chocolate caramel slice
The school holidays are the perfect time to satisfy your kids' sweet cravings – especially if they're willing to make their own desserts. This chocolate caramel slice recipe is an excellent choice. Not only is it an easy recipe for kids to follow, but they'll definitely enjoy devouring it!
Ingredients
● 1 1/4 cups (185g) plain flour
● 1/2 cup (110g) caster sugar
● 125g butter, melted
● 180g block dark chocolate, chopped
● 25g butter
Caramel filling
● 395g can sweetened condensed milk
● 50g butter
● 1/4 cup (60ml) golden syrup
● 2 tbsp brown sugar
Steps
Step 1:
Preheat the oven to 180°C. Grease an 18cm x 28cm slice pan and line the base and sides with baking paper, ensuring that the paper overhangs the sides. In a bowl, combine the flour, sugar, and butter. Press the mixture evenly over the base of the prepared pan. Bake for approximately 20 minutes or until it turns a light golden colour.

Step 2:
For the caramel filling, place the condensed milk, butter, golden syrup, and brown sugar in a small saucepan over medium heat. Stir the mixture continuously for 10 to 12 minutes or until it becomes smooth, well combined, and coats the back of a spoon. Pour the caramel mixture over the prepared base in the pan. Set it aside for about an hour or until it is just set.

Step 3:
In a microwave-safe bowl, combine the chocolate and extra butter. Microwave the mixture on high for one to two minutes or until the chocolate melts and the mixture becomes smooth. Pour the chocolate mixture over the caramel filling, gently spreading it to the sides of the pan. Place the caramel slice in the refrigerator for approximately one hour or until it is completely set.

Step 4:
Transfer the caramel slice to a clean work surface and cut it into pieces. Serve and enjoy!

Let your kids channel their inner chefs for the school holidays! These easy recipes for kids are more than enough to keep them occupied and entertained for the holiday break. Plus points: you'll have new recipes to add to your rotation and an extra set of hands in the kitchen!

With a quick trip to South Village in Kirrawee, you can easily stock up on ingredients at Aldi, The Source Bulk Foods, or Coles. Don't forget to complete your kids' little chef experience by having them help with setting a theme for your dining table, too!