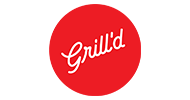 At Grill'd South Village, it's all about burgers done good. But more than that, Grill'd challenges themselves, their staff, and their customers to be good, do good and feel good. Every day. Grill'd cares about everything that goes into your burger, from the bun to the filling: fresh, local ingredients, RSPCA approved chicken and Australian grass-fed beef and lamb.
Grill'd makes sure taste is their top priority. No cages. No nasties. No added hormones. No exceptions. Produce farmed locally: from paddock to plate, to your fussy or not so fussy palate.
Grill'd delivers - Order via UberEats, Menulog or the Grill'd website.